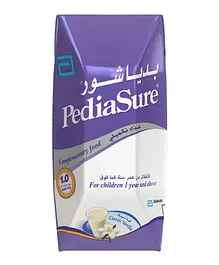 PediaSure Vanilla Liquid - 200mL
AED
6.03
AED
6.3
(4.29% Off)
PediaSure Vanilla Liquid - 200mL Reviews
Ratings & Reviews
4.0
7 ratings and 2 reviews
Have you used this product? Rate it now
Review This Product
All Users
Verified Buyers
SORT BY
Showing 2 of 2 reviews
Ayeli
9/6/2023 3:41:19 PM
Verified Buyer
Do you find this review helpful?
0
Thank you for your Feedback
Khadija
12/18/2021 5:52:40 PM
Verified Buyer
"Very Satisfied"
I'm so happy with my purchase as i got it cheaper than the place i always buy from. But you should have better prices for kids food items. Especially formula milk and protein shakes and solid foods. Overall my experience with first cry app is great so far. Very easy to use the app for shopping and the shopping cart details is the best part as in you can cancel any item of your choice instead of the whole order and the price wont change Thanks.
Do you find this review helpful?
0
Thank you for your Feedback